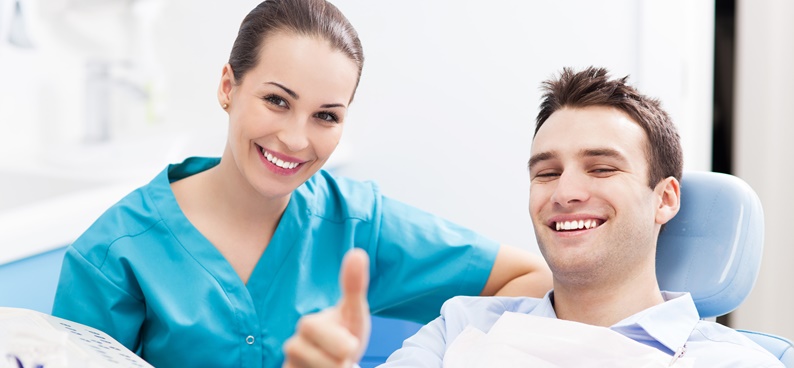 Scaling & Polishing
Scaling & polishing by a dental surgeon removes tartar that may develop even with careful brushing and flossing, especially in areas that are difficult to reach in routine toothbrushing. We recommend having your teeth professionally cleaned at least once every year.
Teeth Whitening
Teeth naturally acquire a darker shade over the years as a result of diet, lifestyle choices, oral hygiene, ingestion of medicine or just a natural aging process. Extrinsic stains is removed by polishing while intrinsic stains require dental whitening to lighten the shade.
There are various options to whiten one's teeth but the most efficient is to visit a dentist. Teeth Whitening is a common procedure in dentistry especially in the field of cosmetic dentistry. Dentists may administer in-clinic treatments (chairside) or take-home treatments.
At CODEN Specialists @ Paragon Medical Centre, Orchard Road, our dental surgeons will check your teeth thoroughly before undergoing any whitening procedure. They will clean your teeth, restore your cavities, and make sure your gum is healthy before starting the whitening treatment.
Take-Home Whitening
Take-home whitening often uses 10 to 20 percent peroxide gels. To prepare for the take-home whitening, the dentist takes impression (mould) of your teeth to fabricate soft, customized whitening trays.
To administer the treatment, you will be given instructions to put a thin layer of the whitening gel into the tray and wear it for 1-2 hours a day, depending on peroxide concentration. Most whitening effects occur in one to two weeks. In difficult cases, it may take up to six weeks to see the whitening effect.
In-clinic Chairside Whitening
For in-clinic whitening procedure, the dentist gently cleans your teeth with polishing paste and places a protective barrier on the gum. In-clinic chairside whitening normally uses higher concentration peroxide gel. The dentist applies the gel onto the surfaces of the teeth, exposes it to pulse light for about ten to fifteen minutes and then rinses it off. The process is repeated a few times whilst the patient rests on the comfortable dental chair. The whole process takes around an hour or more to complete. The whitening effect can be seen at the end of the session.
Fillings
A dental restoration or dental filling is a dental restorative material used to restore the function and integrity of the missing tooth structure. It is also perform to improve the overall aesthetics.
The process usually involves cutting the tooth to make space for the planned restorative materials, and to remove any decay or portions of the tooth that are structurally unsound.
Due to aesthetic reasons, many patients prefer to use tooth coloured fillings as it matches the colour of their teeth.
Tooth Sensitivity
Many adults experience occasional sensitivity to hot, cold or sweet food and beverages. The sensation can range from irritation to intense pain. The pain can be short, sharp and unexpected. This sensitivity can be caused by several factors, including but not limiting to, decaying teeth, exposed tooth roots and others.